The LS™ 100 Cap Tightener, our least expensive bottle capper, tightens screw and lug caps from 24mm - 83mm in diameter. Far superior to other capping machines in its price class, the LS™ 100 features an external torque dial that makes changing the torque fast and simple. The LS™ 100 provides good torque repeatability but it does not provide the excellent torque accuracy and unsurpassed user comfort offered by our PS Pneumatic Hand-Held Capping Machines.
Other Bottle Cappers You Might Like:
LS Pneumatic Cap Tightener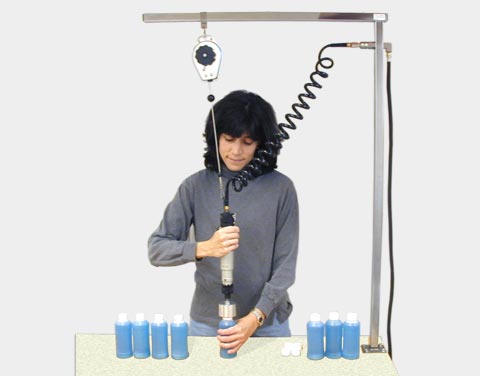 Key Features
Tightens Caps From 24mm - 83mm
Torque Range 14 - 70 inch lbs.
External Torque Adjustment Dial
Lever Start
Good Torque Repeatability
Quick Change Chuck
Reversible - Can Be Used as a De-Capper
Anti-Rotation Mat Prevents the Bottle from Rotating
Pneumatic Operation
Air Requirements: 90PSI @5.5CFM
How It Works
To cap a bottle, the operator places a cap loosely onto the bottle and then places the bottle onto the Anti-Rotation Mat which is positioned under the LS Capping Machine. The bottle is now ready to be capped.
The LS Capping Machine is a lever start machine. The operator lowers the LS Capper with attached chuck down onto the cap to be tightened. When the chuck comes into contact with the cap, the operator depresses the lever with his or her thumb or fingers to start the capping machine. The machine quickly tightens the cap onto the container.
When the cap becomes tight, the operator will feel and hear the clutch slipping and will see that the chuck has stopped rotating on the cap. This signals the operator that the cap is tight. The operator then releases the lever and allows the Capper Balancer to raise the machine back to the starting position ready for the next cap
The Role of the Capper Balancer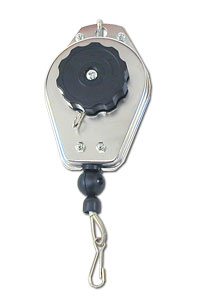 The Capper Balancer suspends the LS Capper over the bottle and cap to be tightened. The Balancer is spring loaded so the capper feels weightless in the hands of the operator. The Balancer allows the operator to lower the capper down onto the cap with very little effort. After the cap has been tightened, the Balancer raises the capper back to its initial position with no assistance from the operator.
The Capper Balancer is included in the purchase price of the ES, PS & LS Capping Machines at no additional charge.
The Role of the Anti-Rotation Mat
With its adhesive backing, the Anti-Rotation Mat can be adhered to your work surface. The operator places the container to be capped onto the mat in preparation for capping.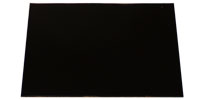 The Anti-Rotation Mat has a high friction surface that helps prevent the bottle from rotating during the capping process. Holding the bottle is very easy and only the slightest of effort is required.
The Anti-Rotation Mat is included in the purchase price of the ES, PS & LS Capping Machines at no additional charge.