Chuck & Liner Selection Chart
How to use the selection chart.
The Selection Chart below contains a full listing of all of our chucks and liners sorted by cap size.
To find the correct chuck and liner size for your cap, measure the outside diameter of your cap and then use the chart to locate the cap range that your cap falls within. Your cap may fall within the cap range of more than one chuck. When this occurs, choose the larger chuck size for an optimal fit.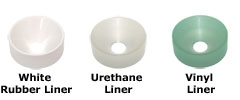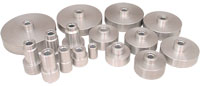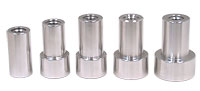 Outside Diameter
of Cap


(in mm)

Chuck
Deep Well
Chuck
Urethane Liner
55 Durometer
Urethane Liner
70 Durometer
Urethane Liner
80 Durometer
White Rubber
Liner
55 Durometer
White Rubber
Liner
83 Durometer
Vinyl Liner
40 Durometer
10-14mm
C100
$58.00

NA
L100B
$5.50

L100B-70
$5.50

L100B-80
$5.50

NA
NA
L100V
$6.25

15-19mm
C104
$63.00

CD104DW
$63.00

L104B
$6.00

L104B-70
$6.00

L104B-80
$6.00

L104A
$6.50

NA
L104V
$6.50

19-24mm
C111
$66.00

CD111DW
$66.00

L111B
$6.50

L111B-70
$6.50

L111B-80
$6.50

L111A
$7.00

NA
L111V
$7.00

21-27mm
C118
$69.00

C118DW
$69.00

L118B
$6.75

L118B-70
$6.75

L118B-80
$6.75

L118A
$7.25

L118A-83
$7.75

L118V
$7.25

25-32mm
C122
$82.00

CD122DW
$82.00

L122B
$7.25

L122B-70
$7.25

L122B-80
$7.25

L122A
$7.75

NA
L122V
$7.75

31-37mm
C127
$93.00

CD127DW
$93.00

L127B
$7.50

L127B-70
$7.50

L127B-80
$7.50

L127A
$8.00

NA
L127V
$8.00

38-46mm
C134
$104.00

NA
L134B
$8.00

L134B-70
$8.00

L134B-80
$8.00

L134A
$8.75

NA
L134V
$8.75

46-56mm
C139
$113.00

NA
L139B
$9.25

L139B-70
$9.25

L139B-80
$9.25

L139A
$10.00

NA
L139V
$10.00

54-61mm
C143
$117.00

NA
L143B
$10.00

L143B-70
$10.00

L143B-80
$10.00

NA
NA
L143V
$10.75

61-70mm
C148
$121.00

NA
L148B
$11.50

L148B-70
$11.50

L148B-80
$11.50

L148A
$10.75

NA
L148V
$12.00

68-76mm
C154
$127.00

NA
L154B
$11.75

L154B-70
$11.75

L154B-80
$11.75

NA
NA
L154V
$12.50

76-89mm
C158
$137.00

NA
L158B
$12.50

L158B-70
$12.50

L158B-80
$12.50

NA
NA
L158V
$13.00

89-99mm
C162
$146.00

NA
L162B
$12.75

L162B-70
$12.75

L162B-80
$12.75

NA
NA
L162V
$13.50

96-110mm
C163
$152.00

NA
L163B
$13.50

L163B-70
$13.50

L163B-80
$13.50

NA
NA
NA
107-117mm
C165
$152.00

NA
L165B
$13.50

L165B-70
$13.50

L165B-80
$13.50

NA
NA
L165V
$14.25

115-130mm
C170
$163.00

NA
L170B
$15.50

NA
NA
NA
NA
NA