ST™ capping machines tighten screw on caps, lug caps, twist caps, and lids from 10mm – 130mm in diameter. All exterior components of the ST™ capping machine are constructed of 316 stainless steel, making the ST™ cap tightener ideal for use in laboratory, pharmaceutical, clean room, sanitary and sterile packaging environments.
The 316 stainless steel body also makes the ST™ bottle capper an excellent choice for capping bottles in harsh environments and for bottlers that package brine, acids, caustic and corrosive substances.
ST™ Capping Machine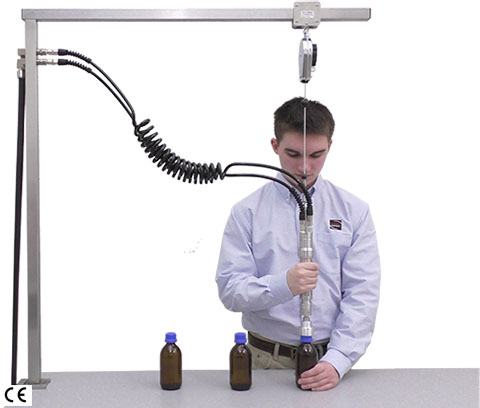 Key Features
Tightens Caps from 10mm - 130mm
Torque Range 0 - 200 inch lbs.
Push-to-Start
Bottle Capper Automatically Shuts Off the Instant the Cap is Tight
Outstanding Repeatable Torque Accuracy
External Torque Adjustment Dial
316 Stainless Steel Construction
100% Food Grade Lubricants
Integrated Exhaust Capture System
Reversible - Can be Used as a De-Capper
Quick Change Chuck
Quiet and Comfortable to Use
Pneumatic Operation
Air Requirements: 90 PSI @ 3.0CFM
The ST™ Pneumatic Bottle Capper is CE Marked (CE Certified)
Place your mind at ease about your important purchase. Take advantage of our free testing service to confirm that the capping machine you are interested in is perfectly suited for your caps and bottles.

Why the ST™ Capping Machine is ideal for use in Clean, Sterile & Harsh Environments
The ST™ cap tightener is constructed of 316 stainless steel
316 Stainless steel is the material of choice for pharmaceutical and sterile packaging environments because it is easy to clean, resistant to corrosion, and is chemically resistant to the cleaning agents commonly used in these environments. It provides superior resistance to attack by most chemicals including corrosion caused by chloride, detergents and aggressive cleaning agents.
316 Stainless steel also is the material of choice when capping harsh substances such as brine, and acids. These substances will quickly corrode plastics and metals other than stainless steel.
The Exhaust Capture System™ is integrated into the design
The Exhaust Capture System™ channels the exhaust air generated by the capping motor and directs it into an air hose. The exhaust air then travels through the air hose to where it can be expelled in a location that will not adversely affect the clean environment.
As can be seen in the image to the left, two coil air hoses are attached to the capping machine. One of the coil air hoses is the air supply hose while the other is the exhaust air hose.
Food Grade Lubricants
While the exterior of the ST™ capping machine is free of greases or lubrications, the internal components of the ST™ Capping Machine are lubricated with NSF-H1 Food Grade Certified lubricants.
Oil Free Pneumatic Motors (optional)
Your ST™ cap tightener can be built with an optional oil free pneumatic motor. Just as the name suggests, our oil free pneumatic motors do not require lubrication.
Standard pneumatic motors cannot be used in many clean environments because they expel a tiny amount of lubrication in their exhaust. Although the amount of oil they expel is so minimal that it is completely imperceptible, it is still not suitable for a clean room environment. Since our oil free motors require no lubrication, the exhaust air exiting the machine is as clean as the compressed air going into it.