Table Top Capping Equipment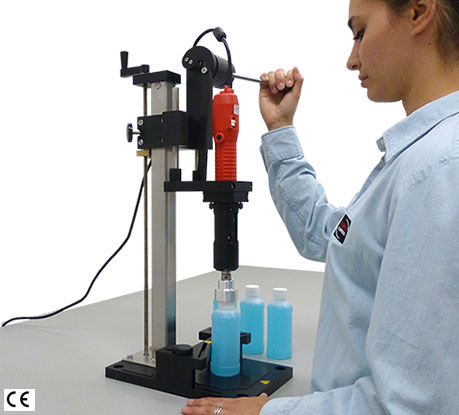 Step 1: Choose the ES™ Table Top Capping Machine that is best suited for your cap and bottle sizes from the table below
To quickly determine which model is right for you, focus on the two columns highlighted in red. The cap range and max bottle height are the primary distinctions between each model.
Step 2: Choose the correct Chucks & Liners for your Caps
The links below will help you learn about and choose the correct chucks and liners for your caps. It may be necessary to purchase additional chucks if you will be tightening multiple cap sizes.
> Chuck and Liner Selection Chart
Step 3: Review Options and Accessories
Step 4: Place your order by shopping cart, phone, fax or email.
Toll Free Telephone: (888) 295-5202 (USA & Canada)
Telephone: (603) 883-2400 (all other countries)
Email: info@kinexcappers.com • Fax: (603) 883-2442
Model
Cap Range
(mm)
Max Bottle
Height (inches)
Torque Range
(inch lbs.)
Height (inches)
Width (inches)
Depth (inches)
Weight (lbs.)
Price
ESTT-150B-9

10 - 24

9

2 - 14
26
11
13.625
26.0
$2,100

ESTT-150B-15

10 - 24

15

2 - 14
32
11
13.625
28
$2,150

ESTT-200-9

15 - 33

9

5 - 18
26
11
13.625
26.5
$2,100

ESTT-200-15

15 - 33

15

5 - 18
32
11
13.625
28.5
$2,150

ESTT-300-9

18 - 53

9

10 - 30
26
11
13.625
26.5
$2,100

ESTT-300-15

18 - 53

15

10 - 30
32
11
13.625
28.5
$2,150

ESTT-400-9

24 - 70

9

12 - 45
26
11
13.625
26.5
$2,100

ESTT-400-15

24 - 70

15

12 - 45
32
11
13.625
28.5
$2,150

Models that operate on 220 ~ 240 volt, 50 Hz, or 60 Hz
Model
Cap Range
(mm)
Max Bottle
Height (inches)
Torque Range
(inch lbs.)
Height (inches)
Width (inches)
Depth (inches)
Weight (lbs.)
Price
ESTT-150B-9

10 - 24

9

2 - 14
26
11
13.625
26.0
$2,200

ESTT-150B-15

10 - 24

15

2 - 14
32
11
13.625
28
$2,250

ESTT-220-9

15 - 33

9

5 - 18
26
11
13.625
26.5
$2,200

ESTT-220-15

15 - 33

15

5 - 18
32
11
13.625
28.5
$2,250

ESTT-320-9

18 -53

9

10 - 30
26
11
13.625
26.5
$2,200

ESTT-320-15

18 - 53

15

10 - 30
32
11
13.625
28.5
$2,250

ESTT-420-9

24 - 70

9

12 - 45
26
11
13.625
26.5
$2,200

ESTT-420-15

24 - 70

15

12 - 45
32
11
13.625
28.5
$2,250