No Matter the Size or Shape of Your Cap
We Have the Perfect Capping Machine For You.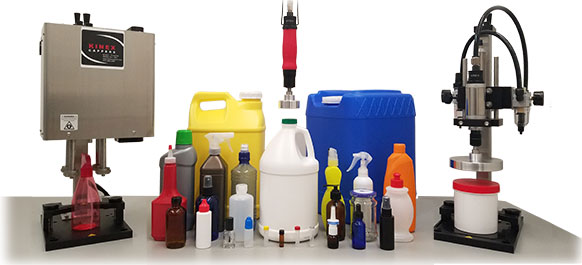 We Are Dedicated to Your Complete Satisfaction
Kinex Cappers manufactures semi-automatic and hand-held capping machines and bottle cappers that tighten screw and lug type caps from 10mm to 130mm in diameter. With this specific focus we have developed the most complete line of semi-automatic and hand-held capping machines in the industry.
Through our many years of experience we have gained an unsurpassed expertise in our field. Our goal is simple - to do everything in our power to ensure that you are very pleased with your purchase. Our 30 day money back guarantee reinforces our commitment to this goal. If for any reason you are not happy with your purchase, you can return it for a full refund. Our relationship with our customers is our most valued asset.
All Orders Ship within 2 Days - Most the Same Day
Makes Capping Effortless
Outstanding Torque Accuracy & Repeatability
Tool-Less Changeover – All Adjustments are Made by Hand.
Tightens Caps from 10mm - 130mm
Tightens Them All - Ordinary Caps to Trigger Spray Caps
Excellent Torque Accuracy & Repeatability
Tightens Caps from 15mm - 130mm
Up to 35 Caps per Minute
Tightens Caps from 10mm - 130mm
Easy to Install, Set-up & Operate
Touchscreen Display & Easy to Navigate Menu
Calculates and Displays the Production Rate & the Number of Bottles Capped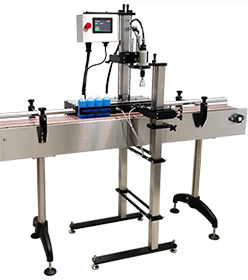 Easy to Set Up & Simple to Use
Excellent Torque Accuracy & Repeatability
Tightens Caps from 10mm to 70mm
Everything You Would Want in a Hand-held Bottle Capper
Outstanding Repeatable Torque Accuracy from 2 - 200 inch lbs.
Tightens Caps from 10mm - 130mm
Compact and Easy to Use
Runs on Standard Electricity with a Direct Plug-in Cord
Tightens Caps from 10mm - 70mm


Outstanding Torque Accuracy of +/- 4%
Includes a Certificate of Calibration.
Torque Output is Set and Locked to Your Specification.
Applies 26mm and/or 29mm Crown Caps
Production Rate: Up to 1200 bottles per hour
100% Pneumatic Operation
Constructed of 316 stainless steel
Ideal for use in Clean, Sterile or Harsh Environments
Tightens Caps from 15mm - 130mm
Applies snap-on caps, push-on caps, and press-on caps
100% Pneumatic Operation
External Force Adjustment Dial

From 40 - 83 Durometer
white rubber, urethane or vinyl
Accuracy: +/- 0.5% of full scale
Easy to use
Can run on battery power
In a previous blog article, we discussed the importance of knowing as much as you can about your caps, bottles, and production environment before purchasing a capping machine. But why is it so important to have all of this information? It is because there really isn't such a thing as a "One Size Fits All" capping machine. .... Continue reading
Brand names, i.e. KINEX, ES, PS, LS, SA, Cap-Rite, Power Cap and Kinetic are trademarks and/or service marks of Kinex Cappers, LLC.
(C) 2006-2018 Kinex Cappers, LLC
All rights reserved. The text and photographs contained in this material are copyright protected and may not be copied or reproduced, in whole or in part, without the express written consent of Kinex Cappers™, LLC.