Changeover Without Tools
The SA Capping Machine was designed with the user in mind. All adjustments are made by hand,
no tools are necessary to change from one cap and bottle combination to the next.
Below is a summary of changeover tasks and how they are completed.
Changeover to a shorter or taller bottle
Raise or lower the capper by turning the hand wheel on top of the Bench Top Capper. Turning clockwise raises the capper, counterclockwise lowers it.
Adjusting the torque
Quickly change the torque output of the capping motor by rotating the external torque dial with your fingers.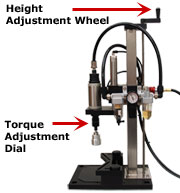 Changover to a larger or smaller cap
The quick change chuck mechanism makes inserting or removing a chuck fast and easy. The entire process is completed in a matter of seconds.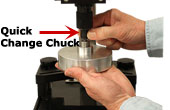 Changeover to a wider or narrower bottle
The SA Bench Top Capping Machine with Standard Base has a "V" shaped backstop designed to align the bottle for capping. The Backstop slides forward and back to accommodate bottles of different widths.
The Backstop can be quickly converted to work with either short or tall containers. The raised configuration is best for taller containers. By easily removing the risers, the Backstop can be laid flat which is perfect for short containers.
Loosen the thumb screws on the Backstop which will allow the Backstop to slide forward or back. Align the bottle so it is centered under the capping motor. Slide the Backstop against the bottle and tighten the thumb screws. Your bottles are properly centered under the capping motor ready to be capped.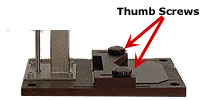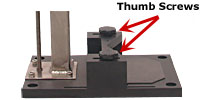 Adjusting the downward pressure
Capping machines use a chuck with inserted soft rubber liner to create grip on a cap. Downward pressure is required during the capping process to push the soft rubber chuck insert (liner) into the cap. When the soft rubber is pushed into the cap, it grips the cap which enables the capping motor to tighten the cap onto the bottle.
You may need to change the downward pressure when you change from one cap and bottle combination to another. The downward capping force is controlled by the Air Cylinder Pressure Regulator located on the left side of the capping machine.
To adjust the pressure, pull up on the black knob, turn to the right to increase pressure, or turn to the left to decrease the pressure. After completing the adjustment, push the black knob down to lock into place.