ES Table Top Capping Equipment are the ultimate in compact, easy to use capping machinery. They provide outstanding repeatable torque accuracy on screw and lug type caps from 10mm – 89mm in diameter. Powered by standard electricity and featuring a direct plug-in cord, the

Table Top Capper can be used most anywhere. It is ideal for use in places with limited space or without access to compressed air such as laboratories, pharmacies, clinics, and office environments.
Table Top Capping Equipment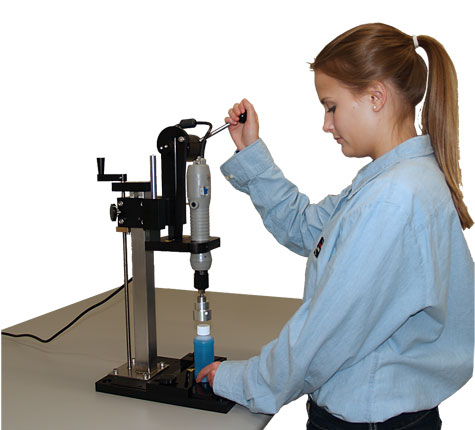 Key Features
Tightens Caps from 10mm - 89mm
Torque Range 2 - 45 inch lbs.
Runs on Standard Electricity
Direct Plug-in Power Cord
External Torque Adjustment Dial
Reversible - Can be Used as a De-Capper
Quick Change Chuck
Anti-Rotation Base Prevents the Bottle from Rotating
Available in the Following Voltages & Frequencies
110 ~ 120 volt / 60 Hz. AC
110 ~ 120 volt / 50 Hz. AC
220 ~ 240 volt / 50 Hz. AC
220 ~ 240 volt / 60 Hz. AC
Place your mind at ease about your important purchase. Take advantage of our free testing service to confirm that the capping machine you are interested in is perfectly suited for your caps and bottles.

The service and support Kinex Cappers provided when we purchased the ES Table Top Capper with Lever Activated Base was outstanding. They are knowledgeable about their products and applications and are dedicated to finding the perfect solution for their customers. The input they provided helped our process go that much smoother.
Nancy Wilson, HQC Incorporated
Oswego, Illinois USA
We designed the ES Table Top Capper to provide our customers with a compact capping machine that is very easy and comfortable to use.
The ES Table Top Capping Machine is easy to use. Simply place the bottle onto the base of the machine and depress the capping lever, the machine takes care of the rest.
All adjustments are made by hand, making changeover from one type of cap and bottle to the next fast and easy.