SA™ Bench Top Capping Machines tighten screw and lug caps from 10mm to 130mm in diameter. They provide outstanding repeatable torque accuracy ensuring a high quality closure for every cap that they
tighten. Designed to eliminate the strain and fatigue of hand capping, our SA™ Series Capping Machines are a customer favorite for a very simple reason - they make capping easy.
SA Benchtop Capping Machine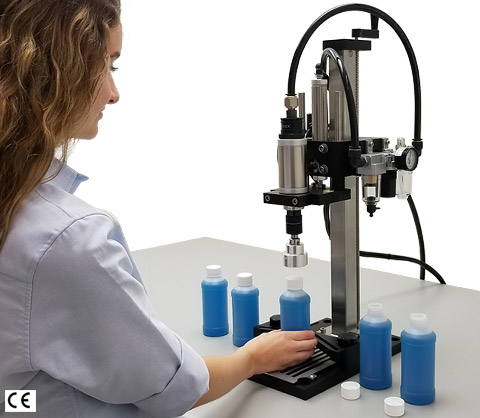 Key Features
Tightens caps from 10mm - 130mm
Torque range 2 - 125 inch lbs
Pneumatic Operation
Air Requirements 90 - 125 PSI @4.5CFM
Stainless Steel and Anodized Aluminum Construction
External Torque Adjustment Dial
Reversible - can be used as a De-capper
Quick Change Chuck
Anti-Rotation Base
The SA Capping Machine is CE marked (CE Certified)
Place your mind at ease about your important purchase. Take advantage of our free testing service to confirm that the capping machine you are interested in is perfectly suited for your caps and bottles.

The SA™ Capping Machine performs all of the functions and exerts all of the effort involved in the capping process so you do not have to.
The SA™Capping Machine is easy to use. Simply place the bottle on the base of the machine and depress the foot pedal, the machine takes care of the rest.
All adjustments are made by hand, making changeover from one type of cap and bottle to the next fast and easy.
Choose accessories for your SA™ Capping Machine that will allow it to comply with your clean room requirements.