Tightens All Caps - From Standard to Trigger Spray
Our new patent pending PumpCap™ Capping Machine is perhaps the most versatile and easy to use semi-automatic capping machines ever made. The machines will tighten any type of screw-on cap, from a standard flat cap to a trigger spray cap or pump cap. It will tighten a wide range of caps, from 15mm - 130mm in diameter.
The PumpCap™ owes its versatility and ease of use to its patent pending four wheel drive design.
The four drive wheels of the PumpCap™ create extraordinary grip on the cap. When it comes to capping, grip equals control. The PumpCap provides outstanding repeatable torque accuracy that will allow you to tighten your caps with as little or as much torque as you desire with none of the constant tweaking and adjusting you have grown accustomed to when using other capping machines. The PumpCap is also an outstanding de-capping machine.
PumpCap Capping Machines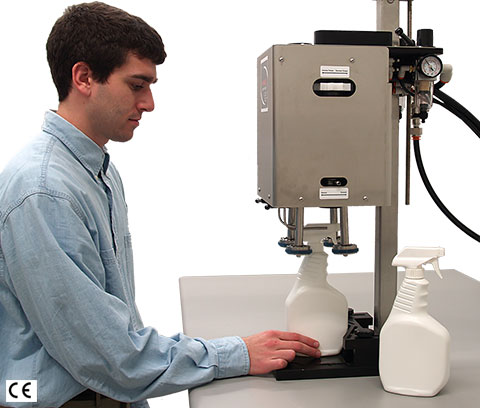 Key Features
Tightens caps from 15mm - 130mm
Torque range 4 - 100 inch lbs.
Pneumatic Operation
Air Requirements: 90-125 PSI@5.5 CFM
Stainless Steel & Anodized Aluminum Construction
External Torque Adjustment Dial
Outstanding De-Capper
Quick Change Drive Wheels
The PumpCap Capping Machine is CE marked (CE Certified)
Our new PumpCap Capping Machine has been a valuable addition to our production processes. With an extremely high torque application need, this machine was literally a hand saver because our conventional automatic capper couldn't provide enough torque to sufficiently apply the closure. With the new PumpCap Capping Machine from Kinex Cappers, we are now able to offer additional packaging solutions to our existing and future customers.
The machine itself is very easy to set up and operate. It requires very little training. The customer service provided by Kinex Cappers has been great.
If you are looking for a semi-automatic capper you can't go wrong with this one
Andrew McGuire, Thornell Corporation
Smithville, Missouri USA
The PumpCap Capping Machine is an exceptional machine that we have been using for the past six months. Not only did it meet our high standards, but it exceeded them. Kinex has made an outstanding product that can run at least 800-1000 bottles per hour, without any problems. We love it!"

Jim Camerano, Mineral Masters
West Chicago, Illinois USA
Tightens Any Style of Screw-On Cap
Use the PumpCap™ Cap Tightener to tighten all of your caps regardless of their shape and size. The PumpCap Capping Machine will tighten standard flat caps, trigger spray caps, pump caps, spray caps, finger pump spray caps, cream dispenser caps, cream pumps, dispensing caps, dispensing pumps, foam dispenser pumps, atomizers, essential oil sprayers, cologne sprayers, lotion pumps, lotion caps, lotion dispensers, scent sprayers, fragrance pumps, fragrance sprayers, treatment pump caps and many more. We have not yet seen a cap that the PumpCap cannot tighten.
Other Bottle Cappers You Might Like:
The extraordinary gripping power of the PumpCap™ translates into outstanding torque generation and accuracy.
The PumpCap™ Capping Machine is easy to use. Simply place a cap loosely onto the bottle and place the bottle onto the base of the machine. The machine takes care of the rest.
The PumpCap™ Capping Machine is very easy to set up and use. Change-over from one cap and bottle to the next is done quickly, easily, and without the use of any tools.
Place your mind at ease about your important purchase. Take advantage of our free testing service to confirm that the capping machine you are interested in is perfectly suited for your caps and bottles.