Kinetic Bottle Capping Machines are rugged and reliable. They last for decades. Some of our customers still use the same machines they bought over forty years ago. They are very comfortable to use and capable of operating at very high speeds, slowed only by the pace the operator can maintain.
Kinetic Bottle Capping Machines are good at producing a tight cap, but they do not provide the precise torque accuracy and repeatability offered by our PS™ and ES™ hand-held capping machines, or any of our bench top style capping machines.
Other Bottle Cappers You Might Like:
Kinetic Bottle Capper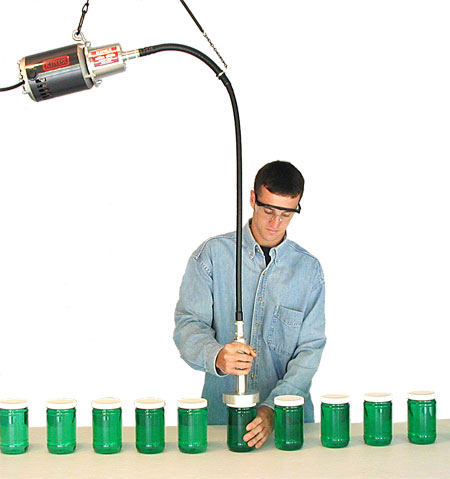 Key Features
Tightens caps from 10mm - 125mm
Torque range 4 - 100 inch lbs
Direct plug-in cord
Easy to setup, easy to use
Comfortable to use
Quiet
Powered by an AC electric motor
Quick change chuck
Available in:
110 ~ 120 volt, 50/60 Hz. AC
220 ~ 240 volt, 50/50 Hz. AC
How It Works
To cap a bottle, the operator places a cap loosely onto the bottle and then places the bottle onto the Anti-Rotation Mat which is positioned under the Kinetic Capping Machine. The bottle is now ready to be capped.
The Kinetic Capping Machine runs continuously – the chuck is always spinning. To tighten a cap, the operator grasps the hand piece with attached chuck and lowers it quickly onto the cap. The motion is similar to lightly pounding your fist onto a table.
The Kinetic Capper is a high speed machine. The instant the chuck contacts the cap, the cap is tight and the chuck comes to a complete stop. When the chuck stops, it signals the operator that the cap is tight. The operator then allows the suspension system to raise the hand piece and chuck back to the starting position ready for the next cap.
Adjusting the Torque on the Kinetic™ Capping Machine
The Kinetic™ Capping Machine works on the principle of kinetic energy, where energy is increased as speed or weight is increased. The amount of torque applied to the cap is determined by the speed at which the chuck is spinning in combination with the torque adjusting weight you are using. The Kinetic™ Capping Machine comes with five torque adjusting weights.
To increase the torque, place a larger weight onto the sleeve of the chuck. To decrease the torque, place a smaller weight onto the sleeve of the chuck. For some applications, you may find that using no torque adjusting weight will provide the torque output that is appropriate.